THIS WEEKEND BRAD IS IN FRESNO CALIFORNIA!
NEW ALBUM OUT SOON "NEPENTHE"
"

New album is called Nepenthe Songs: Flying With You More Than I Do Hang With A Bang You're The One For Me I'm So Blue Nepenthe Fallin' In & Out of Love Tales Of Brave Ulysses I Can Never Love Again Drivin' Avatar Cryin' Lonely Teardrops Photo credit: Alex Centrela Engineers: Francis Buckley, Peter Wolf, Richard Bryant & Greg Edenfield Made in the USA / Cali Bee Music Release date to be announced"
NEW! INTERVIEW! THE TALENT MANUAL MAGAZINE
"

What are just two words that describe your desire to get out into the world, and make more music? Loving Life! In detail? The world is full of wonders, both big and small. I am amazed everyday with all of the wonders around me and feel so much joy to be here. What is the type of crowd you would share your music with first? My audience loves the guitar and enjoys songs with lead guitar playing. Lots of blues music fans too. I hope my lyrics create a common bond as they listen to my songs." - READ THE WHOLE INTERVIEW!! Thank you writer & editor Mercedes Barreto
THE CALIFORNIAN streaming show on break until November when we start our second season. The cast and crew gives our fans a shout out THANK YOU For watching our show!!!
FOUR NIGHTS WITH THE LEGENDARY BAND CHICAGO!
BRAD "GUITAR" WILSON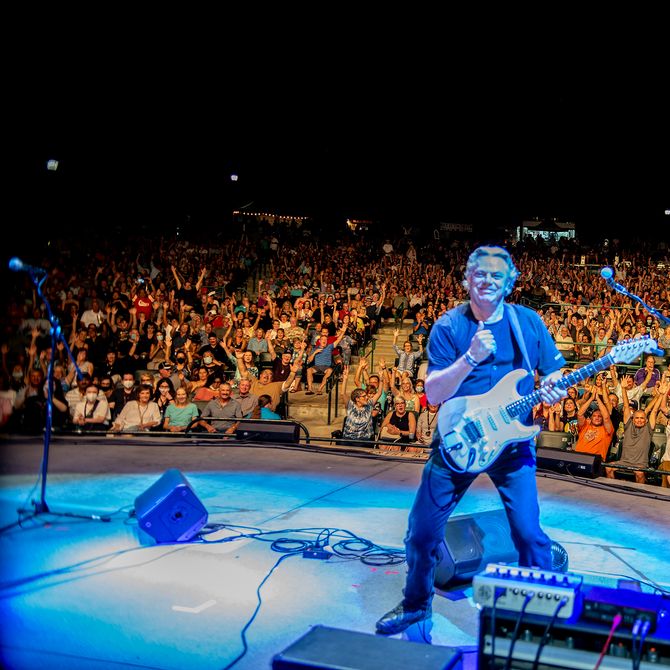 Contemporary charismatic guitarist, vocalist and songwriter
"The Californian" Brad Wilson 2019 Sold out arena shows included tour dates with legendary band Chicago!! European tour dates in The Netherlands!! 120 shows across the west coast. New album in 2020. "Guitar has never sounded so good"
Booking Agent:
Laurie Gorman
559-741-0245
Laurie3g@aol.com
Cali Bee Music Inc.
CONCERTS 2021 PERFORMING VENUES & DATES


 

UPCOMING CALIFORNIA
Brad "Guitar" Wilson Shows
SEPTEMBER 4 SANTA ROSA
 LUTHER CENTER FOR THE PERFORMING ARTS WITH CHICAGO
SEPTEMBER 5 SARATOGA
THE MOUNTAIN WINERY WITH CHICAGO
SEPTEMBER 7 MODESTO
GALLO CENTER FOR THE ARTS WITH CHICAGO
SEPTEMBER 8 BAKERSFIELD
DIGNITY HEALTH AMPHITHEATRE
WITH CHICAGO
---------------------------------------
-------------------------------------------
Brad "Guitar" Wilson Shows
 
OCTOBER 15 FRESNO
LUCY'S LOUNGE
(9pm - 12am)
 
 OCTOBER 30 CARMEL VALLEY
TRAILSIDE CAFE
(6pm - 9pm)
 
OCTOBER 31 PACIFIC GROVE
LUCY'S ON LIGHTHOUSE (2PM - 4PM)
 
OCTOBER 31 MONTEREY
SLY MCFLY'S (9PM - 11:30PM)
 
NOVEMBER 13 CARMEL VALLEY
TRAILSIDE CAFE
 
NOVEMBER 14 MONTEREY
SLY MCFLY'S
 
NOVEMBER 20 FRESNO
SEQUOIA BREWING COMPANY
 
NOVEMBER 27  SEASIDE
CUZ'S SPORTSMAN 
 
NOVEMBER 28 MONTEREY
SLY McFLY'S
 
DECEMBER 4 LOS OSOS
SEA PINES RESORT (5pm - 7pm)
 
DECEMBER 12 PACIFIC GROVE
LUCY'S ON LIGHTHOUSE (2pm -4pm)
 
DECEMBER 12 MONTEREY
SLY McFLY'S
(9pm - 11:30pm)

 

 
"Tips Gratefully Accepted," "Thanks for watching my live stream," and "I appreciate your support!" After you enter an amount, scroll to top of the page to check out.
I am recording a new album called "Nepenthe" and producing a new streaming show "The Californian" with Yippee Ki-Ay Blues! A Micro Burst Live Music Series! Your support during these challenging times is important to me and makes is possible for me to write and perform my own music.
Enter the amount you wish to donate
BRAD "GUITAR" WILSON WELCOME TO MY WEB SITE
We are proud to offer PayPal to you for Tips and donations to help keeping our independent music flowing! It makes it possible to record original music and provide a live stream show! Thank you for your suppoprt!
"FLYING WITH YOU" NEW SINGLE ON SALE NOW!
NEW! SOMEDAY AFTER A WHILE
NEW SONG "AVATAR"
NEW SINGLES HANG WITH A BANG LET'S DANCE, DRIVIN' AND AVATAR ON SALE NOW AT ALL MUSIC OUTLETS! AVATAR IS A GUITAR INSTRUMENTAL THAT FEATURES THE MUSIC AS THE THEME TO A NEW INTERACTIVE WEB SITE BLUES GALLERY!
Udo Conrady radio show spins new releases! 'Tales Of Brave Ulysses" and "Someday After Awhile" worldwide from Germany!!
Rattled Beats radio show featuring two big songs from my albums!!  "ALL KINDS OF A FOOL" and "I CAN'T QUIT YOU BABE". GREAT BLUES RADIO SHOW WORLDWIDE!!
TONY CORNER PRESENTS DRIVIN' ON HIS BLUES CORNER RADIO SHOW AND SPINS FROM THE BINS SHOW!!
Thank you Mister Ti for debuting "AVATAR" and presenting a weekend special with Drivin' featured!! The new singles on your radio show!
Tony Corner Blues Corner Radio show presents songs from my Power Blues Guitar live album and his show theme is my song "Cruisin' The Coast"
NEW WEEKLY STREAM SHOW BEGINS NOVEMBER 28th!!
UDO CONNELLY RADIO SHOW BLUES-TIME PRESENTS BRAD GUITAR WILSON SONGS DRIVIN' AND HANDS ON THE WHEEL FROM GERMANY!
AUGUST 16 - AVATAR ENTERS EUROPE"S HIT-TRACKS TOP 100 AT NUMBER 86!!     
FRIDAY JULY 31 GARY MICHAELS RADIO SHOW FROM ECUADOR FUSION POCKET FEATURES MY SONG " CHANGE IT UP"!
Steve Porter Radio Show adds songs from my albums broadcasting worldwide from UK.
BRAD "GUITAR" WILSON INTERVIEW IN THE TALENT MANUAL MAGAZINE
"

1) What would be an achievement you are most proud of which you would like to elaborate on from 2020 and 2021? During this time I recorded my new album Nepenthe for release on May 29, 2021. I also have a streaming show called The Californian with Brad "Guitar" Wilson on the second and forth Friday's each month. 8pm pacific time presented at Yippee Ki-Ay Blues. 2) How do you feel you have progressed recently? Very inspired and writing a follow up album for release in September 2021. It will be mostly acoustic guitar songs the will be followed my a tour in Europe. In terms of musical inspiration? I am spending a lot of time at a California coastal location called Big Sur. This scenic and historic village has long been a home to painters and writers. It is filled with inspiration as the redwood trees of forest meet beautiful beaches of the Pacific ocean. 3) Has Covid had an impact on your schedule or routine? No live concerts for everyone's safety for one year. March 2020 to March 2021. The USA is now open again for concerts. As a creator, or musician? As a performer? During the time of covid pandemic I have been very active with music streaming and writing and recording. Also the government provided financial grants to artists to keep busy with the arts. 4) Why do you feel that your music should be heard? I have lots of friends and fans that enjoy my songs. It brings them joy. It is my job to create music and art. Is there a new motivation you feel you can describe in words? Yes, motivation to keep music alive and support arts. I also understand how important all music is to everyone to feel good each day. I love music and the uplifting feeling it brings! What would be these words in just three words? Life Love Joy 5) Is there anything you would like to add? Find the small wonders of life that are all around you everyday where every you are. Hope everyone visits my web site www.bradwilsonlive.com and checks out the projects I am working on. "